🏺 FluffGator 🏺
fg / effigy | they/them nonbinary | digital artist | portland, or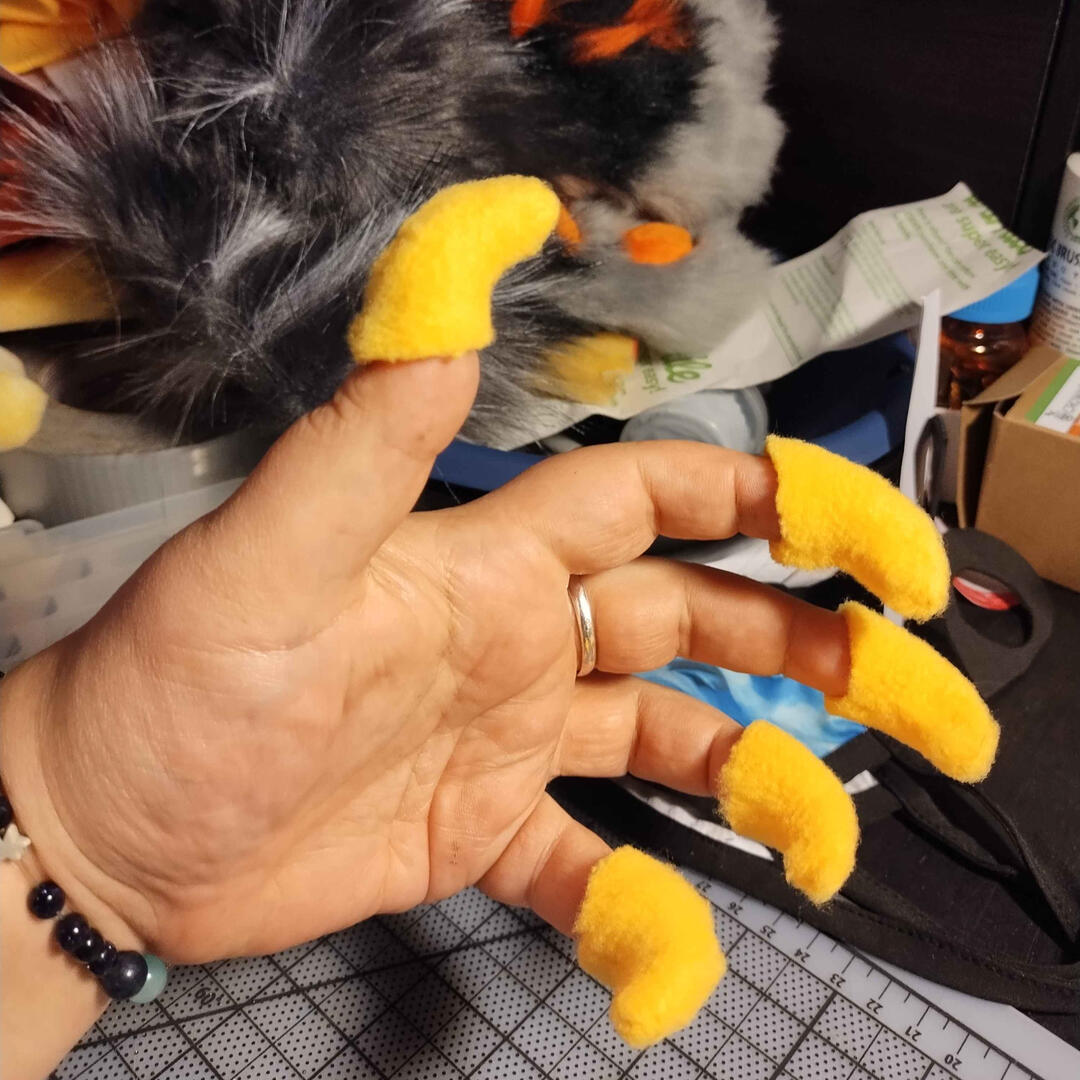 Welcome to my commissions site!
You can call me "FG" or "Effigy".
I'm a primarily digital artist that specializes in sketching and painting stylized characters/scenes.
You can learn more about me by exploring the navigation links above.Thanks for visiting 🌠
---
By commissioning me you are agreeing to my terms of service.
🎏 FAQ 🎏
If you have a question that isn't covered here, feel free to ask me.
---
◈ Tools of the trade?
My current staples for all of my digital work: XP-Pen Artist 12 Pro and my iPad Mini. I've completely transitioned my workflow over to a mix of Procreate and Clip Studio Paint, both which make it really easy to work on my pieces on-the-go.
◈ What timezone are you located in? Where are you from?
I live in pacific northwestern state of Oregon, in a town very near downtown Portland. That would put my timezone at Pacific Time or (GMT-8). I'm originally from the dry and dusty expanse of Lancaster, California, but I've always felt more at peace in the rainy evergreen terroir of the Pacific Northwest.
◈ How can I check the status of my commission?
I regularly update the cards on my trello with WIPs and notes, so be sure to check there to keep yourself up-to-date. I'll also contact you whenever an update is made to your card too. So even if you don't check the Queue, you'll always be informed~
◈ How do I commission you?
I have all the types of work I have to offer listed in my art catalog. You'll also find USD pricing estimates and examples of finished works there. To collect the information I need for my commissions, I use an Application Form method, but be sure to check whether or not specific slots are open/closed before applying. You can find that info via my queue!I try to only take on as much work as I can complete in 1 month, give a week or so. Slots for the next month are usually being posted around the middle of the current one.
◈ How do you calculate the cost of an accepted commission?
I'm currently valuing my work at $20usd per hour, which is what I then use to calculate my base prices that you see listed in my catalog. Any add-on or complexity fees are then added to the total quote and that's it!
◈ What is the average turnaround time of your commissions?
The goal is always to get a commission finished within a few weeks of payment going through, but unfortunately life and my health problems have a way of knocking me off my feet. My Full Illustration pieces are the most complex things I offer, and those can takes me at least 4 weeks to complete. If something ever does happen to delay the progress of your commission, you'll be notified via e-mail.
◈ Do you have somewhere I can see all your past completed commissions?
Yes! I've set up a separate board from my queue specifically for storing finished works and their WIPs, which you can find here. If you're looking for my NSFW pieces, you'll have to look through my gallery on FurAffinity, since I keep those cards archived.
◈ Is it okay to repost something I commissioned from you to my own art gallery?
Absolutely! It helps share my work with others, and that's very much appreciated. All you need to do is make sure to credit me by name and linking to my Carrd site or one of my active socials. For example: Art by Fluffgator (link).
◈ What subjects do you enjoy drawing most? What don't you like to draw?
I have all that info organized into the about me section, but I generally have the most fun illustrating characters interacting with one another. I'm not too great with illustrating mechanical things like robots or non-stylized vehicles, but I have a deep love for painting natural scenes like forests, beaches, and mountains.
◈ My character(s) don't have any visual references! Will you draw from written descriptions?
As long as the description is complete/understandable and is something that clearly illustrates your character using words instead of visuals, then we are good to go. I am a digital illustrator by trade and have vast professional experience in capturing a character design from a written description. Feel free to link to various other visual equivalents to what you're looking for and I'll be sure to work that into the design.
◈ I haven't heard from you in a while; is everything okay?
I'm most likely experiencing some rough days and/or my physical disabilities are flaring-up, preventing me from being at my computer for any amount of time. I use my "Status Updates" card on trello to post general status updates that affect all current Commissions.
◈ When do I pay for the commission? Do you use Paypal?
Yes, I use Paypal Invoices for all payment processing because it's an effective way to keep both the customer and artist safe. Payment must be received in full before I start working on your commission, so if you haven't yet done so, your place in my queue won't be locked in. Clients that have finished paying for their piece will be able to pass you in line, so to speak.The only exception to this is if I've approved a client's invoice for Partial Payment, see the next question..
◈ Do you have any payment plan options?
I only offer this on a limited basis, but here is how it works: after negotiating this option with me and getting the all clear, a minimum of 60% the total cost of the commission is due before the work begins, and then the remainder is due within 1 week. The larger the final cost for your commission, the more likely I am to offer this option since I understand that sometimes it can take a few days to get funds in order.
◈ If I'm unhappy with my commission, would you redo it or refund me?
While I'm working on a commission, I provide WIPs of every stage of the process. These serve as checkpoints where I'll send the files, wait for a client to reply or give me feedback, and then move forward with the piece. I do offer refunds, but that is a very case-by-case basis. Once I've begun work on the coloring, the Commission is no longer eligible for refund. This is because that's pretty disruptive as an artist to have to leave an art piece unrealized. It sucks!
◈ How long does it take to get my refund, if approved?
Please be understanding and allow around 1-2 weeks to get my checking account funds in order. Refunded amount is dependent on what stage the Commission is at when we discuss this.
◈ Do you provide .PSD files of finished digital art commissions?
Nope, I used to make an exception for sketch commissions where a transparent .PNG and the .PSD were provided for the client to color themselves if they want to... but I no longer do so mainly due to retiring that commission type. It may return in the future if there's a demand for it.
◈ Can I send you a tip?
Most certainly, yes! If you'd like to tip me, you can send one either through your invoice or via my Ko-fi page.
◈ How did you learn to develop your art style? Did you go to art school?
I'm a firm believer that any artist's style is in a constant state of flux and development. A more in-depth explanation would be: I take the things/aesthetics that inspire me and my experiences as a human being and sort of distill them into visual form? I didn't go to Art School since I pursued a science degree in Biotechnology through Community College instead. Either way, I'm completely self-taught and have a vast collection of art theory textbooks that I'm always excited to add to.
◈ Do you do any non-digital work?
I certainly do when I have down-time to just doodle in my sketchbooks or focus on crafts to relax. I rarely post my traditional media work online since most of it tends to be very personal to me, or concern projects that aren't meant for public viewing. My pen/paper work focuses mainly around marker or watercolor mediums. More recently, I've been getting really back into sewing and clay sculpting.. and I'm teaching myself how to make fursuit costumes!
💎 Terms of Service 💎
By commissioning this artist (I, me, FluffGator) and accepting the invoice, the client (you) acknowledges that they understand and agree to the following terms.Please read them carefully.
---
◈ All commissions must be paid for upfront through Paypal invoice. Quotes are in USD only.◈ I provide work-in-progress (WIP) images of the commission at each stage of its creation. Changes to the composition is only available while at the sketching stage; major changes past this point can be subject to an additional charge. This is decided upon at my own discretion.◈ You're supporting an artist that struggles with physical disability and mental health issues. My disability can impact my turn-around time for commissions. I do my best to be open and communicative with my clients, but deciding to commission me means that you are aware of this and agree to be kind while communicating with me.◈ Should the above occur, details will be provided via my Status Updates card on the Trello. I regularly post comments in the Activity section of that card of anything happening that can affect my turn-around. I also utilize mass e-mail to keep my clients informed of any event that will take me away from my workspace, such as hospital stays, etc.◈ I make use of a Trello board to keep clients updated on both their commission and my artist status. Each client will have a dedicated card made for them and the link provided after. This is where I post low-res snapshots of the commission, comment with needed edits, and store the commission's written details for easy access both from my desktop and mobile.◈ Full refund can be requested in the instance that I have not begun work on the commission. Thereafter, a partial refund can be negotiated with me, but the amount is entirely dependent on the level of completion.◈ I reserve the right to accept, decline, refund, and/or refuse service for any commission at any time and for any reason. All refunds can take 3-5 business days to process, dependent on if I need to transfer from my linked checking account.◈ As the artist, I hold the rights to the completed commission and may use it as I see fit, unless otherwise agreed. The commission quote includes licensing for Personal Use Only.◈ You may NOT use the commissioned artwork commercially (e.g. reselling at a profit, or other uses that involve the sale of the art itself) or alter its composition without my explicit written consent.◈ As the client, you may re-post the work online only if: clear attribution to the artist (me) is provided, my watermark remains visible/unaltered on the image, and the re-post has a timestamp older than my own original submission(s).◈ Clear attribution is defined as: prominently linking to my Twitter (@FluffGator) or Art Catalog in the written description of the post, profile, or website using a working, clickable link.◈ Cropping the commission to where my watermark is no longer visible is allowed only if the end-use is to create an icon, profile, badge, or other related image. The clear attribution requirement still applies, such as: "Icon/Art created by @FluffGator", etc. would be sufficient.◈ If transferring character ownership and including commissioned art as part of a bundle, you may only include/value my work at the price it was commissioned for.◈ You may not take credit for the creation of the commissioned art itself whatsoever.◈ The client is receiving digital goods and services. You agree that purchasing a "digital art commission" entails no physical shipments of any kind are to be shipped. Full-resolution versions of the commission are sent via e-mail attachment.◈ Charge backs filed for any reason without first notifying and entering into discussion/negotiation with the artist are invalid, as acknowledged by the client in this agreement.
---
By accepting my invoice, the client (you) indicates they have read, understood, and agree to my Terms of Service.
🍣 Art Catalog 🍣
MY COMMISSIONS ARE CURRENTLY OPEN.
This catalog contains examples of all the different types of digital art commissions I'm currently offering. Click on the table links for a scroll-point to view detailed information about each type, example artworks, and costs of add-ons.And if you'd like something custom that isn't represented by my commission types, please feel free to contact me:
---
◈ I've seen you mention YCH, what does that mean?
YCH is an acronym meaning: Your-Character-Here. They're a special type of commission I offer where the background and composition are already finished, with a placeholder character sketched in. You can read more about them here.
Here's a general breakdown of my current prices according to type:
◈ Are you open for NSFW work? Do you have any examples?
Yes! If you're looking to commission me for NSFW art, please contact me via email so we can negotiate. As for what I'm up for or examples of Adult work, I'm planning on making an age-locked page here to display that info. Until then, just email me! 💙
Icon || $12
Flat price of $12 each
◈ Featuring flat coloring and a crisp, fun aesthetic.
◈ Includes a bundle of sizes upon delivery! Up to 1280p.
◈ You may choose expression or leave it up to me!
◈ Can be animated, with $40 covering 3 keyframes, includes smears!
Doodle || $32
Flat price of $32 each
◈ Rough, monochrome sketch of a single character.
◈ Sketch is clean, with some structure lines visible.
◈ Flat coloring can be added for $20.
◈ You can provide an emotion, action, or context cue..
◈ Or you can leave it 100% up to artist liberty!
Chibi || $48
Flat price of $48 per character
◈ Includes crisp linework, flat coloring, and colored lines.
◈ Big head, small body, some hand detail!
◈ Reminiscent of that soft/round Animal Crossing aesthetic~
◈ Floating island environment can be added for $25.
◈ May be commissioned as an interacting pair for $28.
Bust || $56
Flat price of $56 each
◈ Colored and shaded with high contrast and fun details.
◈ Includes a colorful backdrop that complements your character's design.
◈ Great artwork for convention badges, profile IDs, icons, and such.
◈ You may choose expression or leave it up to me!
Sketchpage || $72+
Starting at $72 with focus on a single character
◈ Includes 1 fullbody and 2 partial 'monochrome' sketches
◈ Optional flat coloring may be added for $20!
◈ Emphasis on the emotive design and body language of your character.
◈ Dynamic posing and expressive texturing.
◈ Additional views can be added for $20 (partial) to $36 (fullbody).
◈ Detailed coloring can be added for $40.
Portrait || $63 - 90+
Starting at $63 for half-body, $90 for full-body
◈ Fully colored piece with dynamic posing/staging and expressive shading.
◈ Price includes a stylized or experimental background, colored to compliment your character(s).
◈ Can be upgraded to a more detailed background for $40.
◈ You may add another directly interacting character for $54. Ideal for friends and couple artwork!
Full Illustration || $200+
Starting at $200 for a single character
◈ Includes professional composition and detailed background/lighting.
◈ Professional level of quality and attention to detail; my absolute best work!
◈ Guaranteed 3840x2160px (16:9) at full resolution unless otherwise specified.
◈ For an additional $110, you may add another directly interacting character.
◈ Background characters may be added for flavor, if the setting calls for it.
◈ Several versions are sent upon delivery, including 1280px detail shots for posting to socials.
Reference Sheet || $160+
Starting at $160
◈ Includes 2 full-body views (front and back), and 2-3 detail shots.
◈ Labeled and easy-to-use palette of your character's color swatches.
◈ Additional views or items/props can be added, cost varying by complexity.
◈ Includes fun text and arrows, as well as a nice experimental gradient for the background of the sheet.
Transformation || $120+
Starting at $120 for 2 frames
◈ Includes both the starting pose, and finale (2 frames).
◈ Additional sequence frames may be added for $60 each.
◈ I typically won't do a sequence longer than 6 frames total.
◈ Art is very expressive, and flat coloring with light shading.
◈ Please provide a general mood or vibe for me to work with!
YCH Auction
Starting price varies, but is usually slightly lower than a custom quote would be
◈ Every YCH piece has a fully painted background behind the character placeholder.
◈ The background is sold as-is with minor edits to place characters into the scene.
◈ Your character will be drawn where the placeholder is; full color/shading, detailed lighting, etc.
◈ Expression/posing can be changed, if desired, and custom accessories can be added to best fit your character.
◈ Any species, gender, or body type is OK, unless otherwise mentioned.
◈ Placeholders are only examples and their lineart isn't recycled at all!
◈ Typical auction starts with a participant claiming SB, and then challenging participants place their own bids in response. Auction continues until there are no further bids in 48 hours, or the AB price is reached/claimed.
◈ Can be a really fun way to get character art if you don't have ideas for a scene/setting!
| Terminology | Breakdown |
| --- | --- |
| YCH | Your Character Here |
| SB | Starting Bid; this is the price that the auction starts at. |
| AB | Autobuy; this is the price to purchase the YCH outright. |
| MB / MI | Minimum Bid / Minimum Increment; a minimum difference a bid need to be. |
| HB | Highest Bidder; the participant that will be awarded the auction when it closes. |
Strengths
I'm highly skilled at drawing all sorts of characters, including dragons, avians, anthro/furry, humans, monsters, other fantasy species, original creatures, and cryptids.
Scene composition and how the character(s) interact with it. I specialize in themes where character interaction is the focus, especially where facial expression and body language is concerned.
I particularly like illustrating characters with all sorts of body types and statures, especially if there's a big difference between one another. It's a guilty pleasure of mine that comes from the character designer in me.
Weaknesses
I struggle most with hard, inorganic surfaces as the main subject of a piece, such as sci-fi interiors.
Mechs/robots, detailed metalwork, and blending those hard-surface subjects with a more organic form is practically technobabble to me as an artist.
Scenes with complex perspective that incorporate lots of buildings or mechanical aspects.
Here's all the places you can reach me.
If you see me posting my work on sites other than the ones listed here, let me know, and I'll look into it.
If you'd like to inquire about my nsfw/mature work, message me via email or visit my FurAffinity🔞.
💬 Contact 💬
You can use this form to ask me any questions you may have!
I go over a lot of the more common ones in my Terms of Service and FAQ.
📬 Mailing List 📬
Interested in my work?
Sign-up for my mailing list!
Doing so will let me notify you whenever I have slots available, or when there's an ongoing sale/auction. You can also opt-out of my mailing list at any time by contacting me and requesting I remove your info. 💙